8/26 &27 - Ruby Mountains, Nevada, and onward to Montana
The Rubys are less than an hour from I-80 near Elko and with an early start I was there in time to set up camp for the evening. Right in the campground were ripe high bush blueberries, giant caddis that I only see in California in October, and the two inch long salmon fly stoneflies that I had only seen much earlier in the year in California.
It seemed trout heaven but I didn't intend to fish. At dawn I took a hike up Thomas canyon, a small creek without lakes, for solitude and a sketch. Though I intend to do some more work on it, I feel good enough to show it as it is.
I would have enjoyed staying at the Rubys but I had a day and a half left to make a set meeting time with a friend on the Gallatin River in Montana. On making Idaho I saw I was just ninety miles from Sun Valley so I detoured north to check out galleries and see Hemingway country. It is a bit overdone, although the resort itself is less crowded with schlock than the surrounding towns and includes more trees and green grass than most ski resorts. Maybe it is just older so these have had time to grow.
Another detour to Silver Creek Nature Conservancy proved a worthwhile shortcut towards Montana. I arrived around seven and watched large rainbow trout sipping emerging mayflies below the bridge. At the lodge there were ten anglers, all decked out in full gear speaking French, with only two folks fishing. Without an Idaho license I retreated back to the bridge and watched the rising trout. These I could understand. If I had known I was only five hours from my Montana destination for Thursday evening I would have camped nearby and painted and fished, but I drove onward and slept at Ashton, Idaho, close to the Montana border.
Thursday I slept late, had an Idaho breakfast with a pile of hash browns big enough for three loggers, and drove north to Montana. It had been a few years since I was in West Yellowstone and I didn't remember it quite so full of hustle bustle and the worst aspects of angling and tourist commerce. I feel sorry for the first one or two fly and souvenir shops, but after being in the computer networking business I understand that if you can make money at something, someone that has no ideas of their own will soon copy and challenge you at it.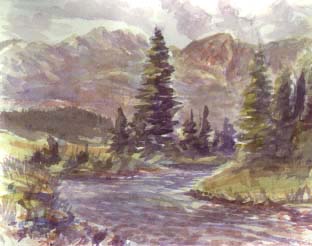 I drove north to the Gallatin, stopped in at a favorite café, called but my friend Karen wasn't home yet at Big Sky. A lunch killed some time, then a sketch along the river, one, then two beers, then dinner, and finally they were home from their day of fishing.
Together with Karen and her father Dick, who has retired to fish in Montana, we enjoyed cocktail hour for three or four hours and read in local guide books about all the great fishing waters we were centered among.
I slept with dreams of large trout sipping tiny flies, and some of both were on my line.