Friday August 29th: Madison River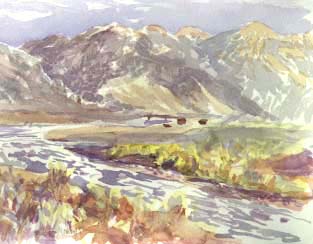 My friend Karen left the kids at her Dad's and we drove up to fish the Madison downstream from Yellowstone park. We tried small nymphs and dry flies, matching a small dark hatching caddis, with only a few rare rises from tiny trout. We tried streamers and attractor flies in all kinds of waters that this river has to offer and talked to other anglers, but nobody had any success to speak of that day. We tried access points along twenty miles of river and finally I gave up and painted this sketch near the Raynolds Pass access.
At a lunch stop outside the Slide Inn I did my part for Montana - I yelled HEY when an ice cream wrapper dropped from an out-of state van filled with teenagers, and one sheepishly got out and picked it up. I felt better when the chatter from inside was in a foreign language.
After this day of being skunked in the fishing we ended up with one of the best catches of the trip. Passing through a corner of Yellowstone we saw first a bison, then a grizzly, three moose and a black bear along the upper meadows of the Gallatin. This is water that we fish often, and all of these animals except the bison moved quietly and were sometimes hidden in the shoreline willows. We could have walked right up to fish and found a dangerous surprise had Karen not needed to get back for dinner with the kids.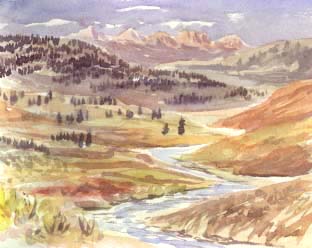 Saturday the 30th we packed a lunch and filled two cars with three generations of the Laws & Callaway clan, Karen's uncle Jack and Aunt Jean, and Alicia who helps with the kids and cooking. The Taylor Fork is a small beautiful and still wild tributary of the Gallatin just outside the park, the favorite local water of Karen and her dad Dick. We found a shady spot for the kids and Karen and Dick started fishing there while Jack and Jean and I drove a mile upstream and started there. We leapfrogged up fishing dry flies in the pools and riffles and together we covered three or four miles, all catching at least a few of the small wild rainbows and native cutthroats. I took an hour out to climb a small hill along the river to gain a view up the long meadow section for a midday sketch.
I was just finishing when a car horn tooted from below, and we all headed back to the shade for lunch and nap for the kids. The day seemed timeless. After lunch I slipped quietly up the stream to get a secret sketch of Dick, the best angler I know, the man who first got me into a steelhead on the fly, fishing his favorite creek. I cannot wait to surprise him with it at Christmas as a humble offering for his hospitality at Big Sky.
September 2nd to 5th - Clark Canyon Reservoir.
Due to wind and rain I was not able to paint, but this is one of those places where the fishing is better than the painting anyway.
Clark Canyon Reservoir near Dillon, MT is a large lake, about two by five miles, where a dam on the Red Rocks river marks the head of the Beaverhead river below. It had that green soupy look, and thick smell of life that most people consider foul but big fish anglers recognize as the algae basis of a rich food chain. The closest campsites were a mile paddle or three mile walk from the zone where everyone fishes, where the river flows in. I almost got myself killed out there when heavy winds came and whitecaps formed, and I only caught two whappers en route but saw nobody catch anything in the popular fishing zone. It is better to have a buddy out in that rough water but I had a life vest instead. The front bar of my tube gave me bleeding sores on the underside of my thigh fighting the wind and waves coming back but when the next day dawned sunny and clear I went out there again. The fishing was slow in the big zone but then around eleven it busted loose and multiple people were hooked to good fish. I had lots of hits but few hookups. The leech that worked the best tended to lay with the hook to the side instead of down and I kept missing them, and I had no others in that size and shade of red brown like guide Jay Fair uses at Eagle Lake in California where these rainbows originate. I was heading to shore for an urgent break when I finally hooked something solid. It came towards me and I wasn't sure how big it was until it got close and I saw it was a rainbow easily two feet long, then it saw me and took off fast with my reel singing well into the backing. If the hook hadn't pulled loose I would have peed my waders.
I stayed longer than I should have - I was supposed to meet Karen the next day to tube Cliff Lake near West Yellowstone. Around two it slowed down a bit - folks were catching less and mostly smaller fish, so I headed back for the long painful paddle. I feared I might hurt my fishing karma if I neglected to keep my meeting with Karen after their generous hospitality.
On the way back I kept the fly in the water, not expecting anything but halfway back just by luck I hooked one of the fabled giant browns they say never bite. It made my reel sing and jumped twice as a boat went by on the way to the zone. I don't think it was longer than twenty inches but it as fat with a nasty hooked jaw. I was going to take a picture from my tube and release it but in the flopping and fumbling somehow the lanyard on my camera got tangled around it so I had to hold it harmfully long out of the water. I towed it back with me on a piece of fly line and soon it seemed revived so I took a picture in the shallows then released it.
So far this is the big fish of the trip.
As it turns out, Karen couldn't make it to Cliff lake. I slept there and with frost in the morning and my sore thighs I felt more like eating an inside breakfast and moving north to Bozeman for a town day. I stopped and painted a nice view of the Gallatin, a larger work that I will have to finish sometime later.