Thursday September 25th - Rocky Mountain National Park
I drove up to Rocky Mountain National Park from Nederland via the Peak to Peak highway on a day as sunny and beautiful as I had expected of September in the rockies. The air was crisp and clear, the sun blazed the turning aspens intermixed among the pines and rocky ridges. I stopped first at Lily Lake, a home of the native greenback cutthroat trout, and walked the shoreline looking for a suitable place to sit and sketch without being obtrusively close to the footpath. After getting away from the parking area I started seeing trout darting from among the shoreline weeds to take small brown mayflies with a splash. As I approached they would dart under the cover of the weedbeds. I have fished here before but today I did not have a license and felt more like painting in the rare good weather. Enough others were fishing the small lake to give the fish exercise in this catch and release water so I fished vicariously by watching them. One person was out in the middle casting dry flies from a float tube, two were casting lures near the parking lot, and one fly angler was working quietly through the trees along the shoreline toward me. He stealthily crouched and hid behind trees as he cast just ten feet for the trout I saw rising. He caught most of them, bringing them in quickly and unhooking them in the water. As he worked his way closer I saw he was fishing a short bamboo rod. My asking brought forth his pride in it. He had made it up himself from an Orvis blank,with distinctive red and black windings. It was perfect for these short and delicate casts and its natural springiness came alive with the ten to twelve inch trout he was playing most of the time. Watching him was entertaining and educational as a good fishing book and far beyond comparison to television fishing shows.
After he worked past me I sat down on a log and painted this sketch, looking back down the lake towards the parking area..
I drove on through Estes Park and into the Rocky Mountain National Park entrance. It did not matter where I went; on such a beautiful day after so much rain and wind I felt I could have painted anywhere. I took a turn following a sign to Moraine Park and found a beautiful meadow, with kids and tourists fishing in the lower reaches. Upstream I found braided channels, thick willows and fly anglers. This upper section looked better for fishing but the thick brush and close mountains blocked the views for painting, so I retreated back down to the first parking area, walked a quarter mile and sketched at the open meadow looking upstream.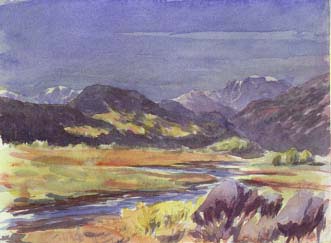 That afternoon I met up with Jonny in Loveland and we picked up Daver who had flown for a few days of fishing for big trout at Delaney Buttes Reservoir near Walden. That is a different story, fishing only.
October 1st - Steamboat Lake
I put an exclamation mark on the end of the Delaney fishing trip with a large trout stuffed with wild rice and Italian mushrooms for my sister and her friend, then it was time to leave. The good weather had me yearning to return to the Wind River Range in Wyoming. I drove back through Rocky Mountain Park. The mountain views along the way were spectacular in the beautiful weather, but I felt the need to keep moving so only stopped occasionally for snapshots. Beyond the park the road dropped into a drier and more gentle valley landscape as I approached Steamboat Springs.
This Spring I had been through the area without time to sketch or drive the extra twenty miles to Steamboat lake, so this trip I made a point of camping there. Steamboat lake is a newly made lake of long inlets and coves divided by forested ridges and grassy meadows. It has a highly regarded state park campground and is rumored to have some large trout. It was deserted. I had my pick of any campsite spread among three campgrounds surrounding the marina. I found a shady site on the island campground with perfect float tube access. I could fish downwind to the weeded point at the end of the island, then paddle up another long shoreline protected from the wind and end up on the other side of the island just a hundred feet from my camp. The whole mile of rocky shoreline broken up by weedbeds looked like big trout water. I inflated the tube, put up the tent, arranged camp and enjoyed the weather. The longer I waited the better the fishing was likely to be. Same for painting, at least for a while until the evening cooled so colors wouldn't dry. If I had just been on a short vacation I would have needed to do something, but for half an hour I sat there quietly in the camp I had set up, the good place as Hemingway called it.
I sketched this view of Hahn's Peak across the lake as the evening light gilded the aspens. When the sun set I went out in the float tube to fish. Trout made soft bites and tugs at the slow red tailed leech fly, and I hooked and landed a few of them. The evening seemed warm so I continued to fish well past dark for a chance at a large trout, but the ones I caught were all in the ten to twelve inch range. I was satisfied to keep a small one for breakfast.
Wednesday morning I lingered in camp with trout and home fried Idaho potato, then continued out over a low pass and into the valley of the Little Snake River. It looked good for fishing or painting except that I didn't see any place to park and no access, it seemed to be all privately held by the Three Forks Ranch. I continued onward to the northwest, out of Colorado, heading back to Wyoming.