October 31st - November 4th: Sleeping in Seattle, and the Olympic Peninsula
I didn't see the movie but I can tell you they are sleepless in Seattle because they drink way too much coffee. Californians move up to get away from the rat race then drink five to ten cups a day. The neighborhoods are quiet and quaint but half the shops are coffeehouses and half the pedestrians don't quite see you or the rare sunny sky with their cups in their faces. Halloween day brought patchy clouds and when the sun burned through I kept checking that I had my sunglasses on. Somehow the sun there seemed much brighter even than at eleven thousand feet in the high sierra. My friend Jeff and his family hosted me for two days to catch up on computer work and dry out my stuff, and bought a painting too. While they worked I took a walk downtown and visited the art museum. The new show featured Leonardo's Codex, recently bought by Bill Gates with some of that money we have given him. It was nice to see he has done something worthwhile with it.
Leonardo's notebooks are important guidebooks for the artist even today. They cover setting up a painting studio, anatomy for the artist, linear perspective and the more advanced perspectives of color and shape changes as distance recedes in a painting. I'd love to thumb through the Codex over a homebrew with Bill, but I don't read backwards Italian as written by the dyslexic Leonardo. Reading the translated Leonardo's notebooks that I bought for ten bucks at a used bookstore has been more worthwhile.
The Seattle Art Museum has a little bit of many kinds of art- Asian, African, Pan American, European, paintings, sculptures, tapestries, furniture; just enough of each to show that each is an art form. It reminded me of the food catered by thirty restaurants on opening eve at the Jackson Fall Arts Festival, a different bite sized sample at each gallery. I enjoy the diversity but would prefer something I could sink my teeth into, enough of one theme or artist or genre to provoke deeper thought. I was surprised to see two pieces by Robert Arnason, none of which were bricks but each prominently proclaiming his name. Long ago I had the chance to view his famous bust of murdered San Francisco Mayor George Moscone, which is not on display at the Moscone Convention Center for which it was commissioned because of the objections of a few. I remember the times well, as it was my first month in the Bay Area and as a bicycle messenger I was in City Hall that morning an hour before the murders. Having seen the deeply meaningful Twinkie wrapper in that pedestal, I find Arnason's self homage banal. Whitman celebrated self and the Beats took it as far as it goes - to where it kills you in crapulent self abuse. Camping out for three month I have cast aside my urban bohemianism, to necessarily pay close attention to self discipline and preservation. Oatmeal, salads, dental floss, vitamin C and daily walks are the modern self-indulgences.
Self abuse is passe, and modernists long ago tried everything including a blank white canvas. That painting of nothing leaves nothing new to paint, but the land wakes anew with each sunrise. Every frost breaks apart mountain rock to form fresh new soil, and every minute new water carries it down past every point in any river. And those rivers that still are healthy hold precious sprightly trout, holding in pools and riffles that change with every storm. I feel quite contemporary to paint landscapes according to Leonardo's guidance, celebrating the land in hope that we don't kill it.
The one exhibition that satisfied was Kumi Yamashita's wall sculptures, wooden blocks and objects that challenge our expectations by casting unexpected shadows. A three dimensional exclamation point casts the shadow of a question mark. A jumble of blocks cast the shadow of a woman moving forward. I thank Ms. Yamamoto for this work, the only thing in the museum I learned from. If her show had been twice as big the museum would be better, but the museum did fulfill its purpose by getting me to do some thinking, or I wouldn't have the preceding paragraphs.
That Halloweeen night we fed the sugarmad trick or treaters addictive mind altering candy, and Saturday I hit the road without a destination. My intention was to fish British Columbia's Thompson River as I have for the last four years, but I had heard that drastically low steelhead returns had almost caused a closure of fishing. From the internet I learned that recent commercial and Indian fishing in the lower Fraser River indicated that the fish were on their way, just two to three weeks later than their normal early November arrival. Besides the late run of fish, river flows four feet higher than normal would compound the difficulty for fly fishing. I chose to motor tour instead to the Olympic Peninsula, with hopes of finding a clearing river for steelhead or sea run cutthroats that come up during this time of year.
Seattle was sunny but as I passed Olympia and Aberdeen, clouds took the sky and an occasional drizzle smeared the windshield. The Quinault river flowing from its lake was a dull chalky grey as one angler cast to the current. With the large lake to settle the glacial sediments flowing down with the week's warm rains, this was my best chance but it was evident that it would not be fishable with flies for at least a few days. The next river was the Queets, where a long neck of the National Park has protected the watershed, but this river has the large Queets glacier at its headwaters so it looked like a flow of concrete. The next river, the Hoh, has campgrounds and more access but also was murky enough that nobody was fishing, and a local said it would take a week of little rain to clear enough to fish. I was dejected by the weather when the Mommas and the Papas came on the radio with California Dreaming. I almost turned the truck south; route 101 could have taken me all the way home. I stopped instead and painted sitting in the truck at a roadside pullout along the Hoh.
It wasn't raining but all the land was wet. Water dripped from the trees and even the paved road was slick with growning moss. On the west coast of the Olympics you can't tell north by looking at the moss on tree trunks; you will find green on all sides of a tree and think you're at the south pole.
I could set up camp for ten dollars and get all of my stuff wet, or continue driving in hopes of fishing or painting against all odds. I continued onward and as night fell I took a hotel room in Port Angeles. I had slept indoors three nights in a row since leaving the Deschutes in the rain, but I just did not have the fortitude to camp in the wet rainforest with rain in the forecast. With all of my stuff in the room, I walked around the town. I stopped in a nice looking Italian restaurant and had some good pasta, which I could have cooked myself on my camp stove. I was depressed for the first time in three months of homeless nomadness and I thought only about heading back. Walking back I saw stars through a few clear patches between the clouds and felt some despair lifting.
Sunday morning I woke feeling better. It wasn't raining, just misty with a high cloud layer. I searched out the Port Angeles Art Center and found it in a grove of trees on a ridge above town; closed. As I gassed up I noticed a motorcyclist in a rare old Suzuki 360 three cylinder, loaded with touring bags. This made me feel like I had it pretty posh. I took the scenic drive up Hurricane ridge to look for a view to paint. There were a few pullovers but the overcast limited the view, but I saw this view of the main ridge of the snowcapped Olympics from the summit. Again I sat in the truck as I painted as there was snow on the ground and a subfreezing wind.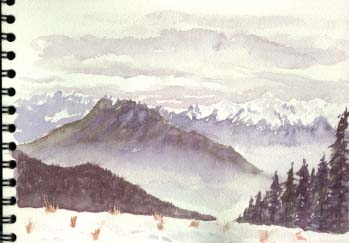 After finishing I walked to the observation porch and recognized the leather jacketed motorcyclist. David had been on the road since September from Vermont. I felt my spirits lifted and rejuvenated by his enthusiasm even at the sub freezing summit, as if with no shoes I had met the man with no feet. His stories of minimalist travel brought me back to an earlier adventure. Twenty-one years ago at age nineteen I hitchhiked around the country with a sleeping bag and a day pack, and even took a fifty mile backpack across the North Cascades during the same first week of November with snow on the ground. It turned into a survival ordeal that made all subsequent challenges easy for me in comparison. I am not as tough or maybe just not as careless now, self-indulgent enough to be carrying a small futon, two tents, three sleeping bags and the espresson machine. Arnason deserves his two pieces at the Seattle Museum after all. As the best travel gift I could come up with, I told David of the hike-in hot spring on the Elwah River then headed there myself.
As I finished my bath and started the two mile hike back out I met him coming in. It would be dark when he returned to his motorcycle, and who knows where he would sleep that night. The radio said rain would fall north of Portland. I trust that his youthful fortitude will get him through. Feeling refreshed and done, I drove south into the night and slept inside the truck at a rest stop south of Portland. I would have liked to stay longer and fish for steelhead in Washington and BC, but I do not believe there is any merit in Man vs. Nature stories; for me it is strictly man in cooperation with nature. If the weather is still clear and warm in Oregon and northern California, it is a good time to start back.