Moving is Never Fun
In my last month in Oakland I bought an old Ford pickup truck, sold my bimoir, hired a successor to take over my work, shopped for camper shells but instead built my own to save half of the price and build in a roof rack to mount my pedal catamaran and rocking chair onto. I took a long weekend flight to Juneau for a few days with Dianne and to bring half my fishing tackle, and registered the truck as it was about to expire in Callifornia, and I figured the Alaskan license plates might help avoid petty vandalism in places along the way that are beginning to feel the effects of overcrowding and overfishing that small-minded people associate with Californians.
My small studio apartment held a lot more than I thought and in trying to pack I still needed two trips each to the dump and to the Salvation Army. Among the things I had hoped to keep, I gave away a Macintosh and Laserwriter, bookshelf, stereo, speakers, futon, a guitar, three boxes of books and two boxes of records. I became a brutal executioner in killing off possessions that were once part of my personality, to hold onto items that I expect to have more use for in a new life in Alaska. I still had way too much stuff.
I mailed ten boxes of books, art, frames and kitchenware and finally if I made sure to fill all the space and leave no air under the plywood roof I fit what was left: a mountain bike, folding bike, folding canoe, two paddles, hammock, three bins of boatbuilding tools, four bins of etching materials and art supplies, twenty fly and saltwater fishing rods, three bins of reels and tackle, two pairs of waders, four sleeping bags, blankets, my thin wool car camping futon, winter and summer clothes. There was no hope of sleeping under the shell as I had hoped, so the last things to go in so as to be accessible were a small cooler and backpack with campstove, float tube, thin sleeping bag, three t shirts, two pairs of jeans sketchbook and painting kit. I was carrying everything I owned but for two thousand miles I would live out of the backpack.
Moving is never fun but I had a naive notion from my small studio apartment life that I had pared my possessions down to a minimal and moveable lifestyle and that heading north to Alaska would be an extended lark of a road trip similar to my enjoyable painting and fishing trip of three years earlier. As I gained speed up the onramp and approached the Bay Bridge/ Interstate80 split I saw the normal traffic was stopped ahead and the truck barely noticed as I pumped the brakes as hard as I could, and only stopped with a foot to spare. I headed up Interstate Five, driving fifty to fifty five miles per hour to take it as easy as possible on the overloaded truck and in case of another need to stop. I jotted notes of the fifty miles green of flodded rice fields, then turned right at Red Bluff for one last weekend at Eagle Lake.
Last Chance for Lucys at Eagle Lake
Daverdog was maybe to drive up seperately to meet me for fishing, but when I arrived and took the hidden turn to our campsite there was only a van that I didn't recognize, so I backed up first into a tree and finally back out to the road and slept aside the truck at a pullout where I could fish in the morning. I slept late and cast from shore and soon had a small fifteen inch trout, then as often happens the wind pushed up whitecaps and ended the fishing for the day. I was walking back to my truck when I saw Dean walking up the lake towards me. I was expecting him the following day but he had skipped a party in Tahoe and had come up the night before. It was his red van at the good campsite. We enjoyed the trout I had caught in soft tacos, stayed to fish Monday but it blew all day again. Tuesday I walked the shore in the morning and caught one last trout to remember Eagle lake by, the typical twenty-inch four-pound Eagle Lake rainbow. I will make a point to fish Eagle Lake when I can get back down to California, and will miss it much in the meantime.
Travels and Fishing with Dean
Friend and former coworker Dean had sold his loft last year just as the Jack London neighborhood was becoming trendy to those in the boom of high tech that were not in the six figure income bracket that was necessary for a San Francisco loft, and had just spent six months back in his hometown Chicago tending to his father in a time of need. He fetched a good price, quit his job and wanted to vagabond north. I and another artist friend Joe Duvivier had done well at Dean's great location for four years of ProArts Open Studios events, and now I had a chance to repay the favor to Dean by helping enable his vagabonding by teaching him some of what I know from thirty five years of fishing. In Klamath Falls he picked out a medium weight spin rod and a good reel and we drove a half hour north and set up camp at the cheap forest service camp upstream from the larger and more expensive State Park on the Williamson.
The Williamson water looks black. Polarized glasses make no difference, you can't see any feature of bottom and the dark current give little hint of depth. I started with a heavy sinking line, fishing a dark brown streamer fly in hopes of finding one of the very large rainbow trout that draw anglers from all over the world. I lost three flies as it was much shallower than I had hoped, then switched to a floating line. Dean used a black spinner and soon lost it to the bottom too. The weather was unseasonably cold and we saw very few bugs or rising trout. We both caught a few small trout casting blindly. Deans were all rainbows on the spinners and mine were all brown trout. I tried a Pistol Pete, the wolly bugger with a propellor and hooked a dark old leatherbacked trout about two feet long. I wish I had carried a camera because it was worth remembering as the ugliest trout I have ever seen.
In Bend I had to stay over two days getting new tires and brakes, things I knew I needed sometime and with no sales tax figured Oregon was the best place to shop for.
We toured in Deans van, starting with the parade for the Sisters Rodeo, where the overwhelming highlight was a three year old driving a miniature chuck wagon pulled by a team of six Welsh Corgis. We dodged a late snowstorm at Mt. Bachelor and tried a little fihshing on the famous Cascade Lakes loop, trying a few casts at Elk Lake, taking a look at the frigid float tubers suffering through no action that we could see at Hosmer Lake, then less of the same kind of non action at Crane Prairie. The abnormally cold weather had put a stop to the insect activity and thereby temporarily dampened the normally excellent fly fishing for large trout in Central Oregon.
Our next rendezvous was at Maupin on the Deschutes. I had been there on my 1997 travels, and though it was not yet time for summer or fall run steelhead; there is dependable resident trout fishing. We met in town and enjoyed lunch before setting up camp upstream along the river. As we were setting up we both noticed many different insects; small dark brown and black caddis flies and tan larger ones, but the most profuse were golden stoneflies about three quarters of an inch long. There was also a few salmon flies over two inches long. In addition to spinners and spoons, Dean had purchased at my recommendation some plastic bubbles for casting flies with the spin rod, and he already knew that this would be a place to give that a try.
I rigged up an eleven foot Scottie lightweight cane spey rod that I had not yet had any chance to fish. It is more the type of rod I'd use for autumn steelhead fishing but the Deschutes is a big enough river to give it some exercise, and the long length gives a good advantage not so much for casting but for controlling the line in the current to work the fly. With a very long rod you need not mend the line in the normal way by flipping a loop or section of line, rather you lift the main body of line and place it where you want it, all while leaving the fly where it drifts.
That evening after dinner we both caught good trout in the fourteen inch range, perfect for breakfast the next day. Dean alternated between fishing lures and flies, and found that on the Deschutes the flies worked much better.
From the Deschutes we split up and I headed to Washington to meet Dianne's parents in Bellevue, while Dean wanted to explore Mt. Hood and the Columbia Gorge. The only place that I knew well enough to describe a place where we could meet was Spence's Bridge in British Columbia, so we parted ways and planned to meet up in four days at the roadside campspot on the banks of the Thompson.
Northern Exposure - stopping in at the Brick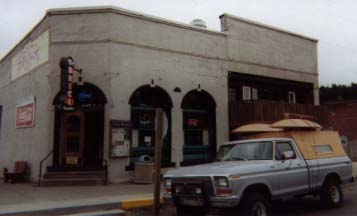 Halfway done the driving portion of my trip, my overloaded truck would overheat in towns during warm weather and I too was weary of driving. My one week Oregon fishing license had expired and I was less inclined to fish and more of a mind to get to a new home where fishing trips could be by bicycle or on foot down to the bay, channel or local creek. Alaska and Dianne were still a long ways away but I took a detour to stop in for a beer and lunch at the Brick, a famous Alaska bar and eatery where everyone in Sicily hung out on the popular television show that parodied Alaskan life and characters in years gone by. I was the only one around with Alaska license plates.
I enjoyed meeting Dianne's parents Robert and Maxine and enjoyed watching the clouds battle sunshine over Seattle from their hilltop. We shopped and found what Dianne wanted me to bring from California for her new greenhouse, an orange tree. Dianne enjoys her fine little funny farm and is always up for agricultural challenges. With a certificate that it was decontaminated to cross the border, the little tree and a Japanese maple joined me in the front seat.
Strange Customs
I guess with coming from the San Francisco area with everything I owned packed in the the truck, the folks with the drug sniffing dog at the border thought they had a good fishing opportunity of their own. Everything came out and was spread out, all the bins were opened, rod tubes uncapped and it took me about two hours to pack everything back in. Then I noticed that they had moved the folding canoe and two duffles of clothes to the other side of the truck so I had to half unpack again to fit them back in. Always a smart aleck, I told them that there job is just like fishing - sometimes all the conditions look perfect but you don't catch a thing.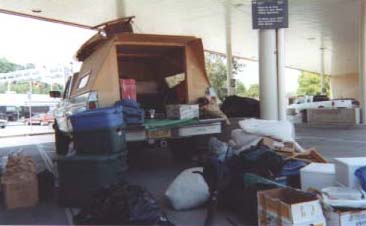 The Thompson was high and too cloudy to fish so we continued north, stayed overnight in Prince George, then headed to Babine lake. We were now in the upper reaches of the Skeena River system, which flows to Prince Rupert where I would catch the ferry to Alaska. Nobody was catching anything from their boats, Dean didn't catch anything from shore and I didn't catch anything from the float tube. A small wed lined pond a few miles back on the road in looked promising but as I gave it a try in the tube, bubbles started from behind me and I paddled into shore just as fish started rising. The weeds kept us from trying from shore.
The next morning I called from Smithers for a ferry reservation. I was aware that the biggest ferry in the fleet had a major fire and was out of service for the summer from a month ago, but I was a little surprised and dismayed that they were taking no reservations in the entire system, only making accomodations and schedule changes among the remaining ferries to reasign those with previous reservations. The normal Prince Rupert to Juneau ferries were cancelled but the ocean-going Kennicott was due to leave Prince Rupert that night, and there were some vacancies that would be filled on a standby basis. Instead of a few days or a week to enjoy the many excellent fishing opportunities of nothern BC, my only choice was to part with Dean and get in the line of cars at Prince Rupert.
I made the ferry that night. It rained most of the way so I sat by a window in the bar, sipped Alaskan Ale and sketched in pencil and filled in the colors as the beautiful misty mountains and island slipped steadily by.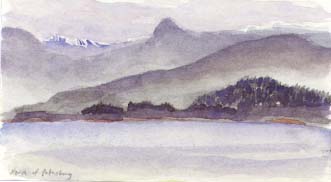 Dean called me a few days after I had arrived in Juneau. He had hooked and lost a magnificent summer steelhead that cartwheeled and thrilled him to the point of trembling at a clear tributary to the Skeena. He had immediately bought a Salmon weight rod and reel to complement his lighter southern gear, and was heading up the Cassier Highway to the far north to fish Salmon ad Steelhead all summer long. I envied him but was happy to be home, in Alaska.