Record Winter Warmth in Southeast Alaska
The last quarter of 1999 was a blur of work. The fear that everything with a chip in it would fail at New Years was no more realistic than the rumors that Microsoft would pay you a thousand bucks to try out their new mail program. I should have just set the clocks back in the non-certified systems, but now that we are publicly traded we have a responsibility to shareholders to buy lots of equipment from other companies whose shares they also hold.
On my annual trip to the Thompson River in British Columbia, rain prevented painting and clouded up the river to make fly fishing for the magnificent steelhead even more of a long shot than normal. My lodgemates Fred and John hosted a Scotch tasting, and as gracious hosts often do we ended up with a lot more than we started with. The only fish I hooked gave my Winston bamboo rod good exercise with runs of over a hundred yards and six wild jumps before winning her freedom.
I was becoming comfortable in my routine, working full time again, living for weekends and occasionally going out for a day to hike or fish or gather mussels at low tide along the coast. With the stock market rising and always being busy, I had almost forgotten the differences that demark me from my coworkers and neighbors. After my long travels in 1997 on my return to urban California I could feel the buzz of energy, hear the roar of traffic and see the people, moving faster and faster andbumping each other like molecules in water that is almost boiling. I had been sucked back into it and didn't even notice.
In this age of communications, sitting in my cubicle I was connected to a vast network of friends I did not yet know. A coworker showed me the wide array of old fishing tackle for sale on the Internet auction sites, and I found myself thrilled with the competitive bidding on highly desireable pieces but my main joy was in finding the bargains. I sold my number one modern Winston rod to my buddy Daver and saw it improve his confidence and casting overnight, and used the proceeds to buy ten old glass rods in various sizes and styles to cover all of my fishing needs. I think of myself as an angler not a collector, but I soon had a small collection of interesting and historical glass fly rods. Fiberglass reprsents the transition period between the handmade craftmanship of fine and expensive bamboo to mass production and optimization of materials and design. I have always appreciated the history of flyfishing and now at bargain basement prices I was able to enjoy excellent casting rods that may someday also climb in value as collectibles. I'd make more money in the stock market but you cannot fish with IPO shares.
John Stoll is a character that shares my passion for old fly gear, and after a few competing bids John approached me with the idea of teamwork. Like kids with baseball cards, we finagled some entertaining swaps and convoluted three-way deals with other collectors that John knew. John called me one Sunday for a favor, to help him in a convoluted deal to obtain a prized one piece rod blank from someone here in the Bay Area who would not sell it outside the USA, cut it precisely and send to John's friend Tadashi in Japan. It was a little bit of a stretch but much more of John's money in the payment than mine in the shipping. I figured that with the way John thinks up these convoluted deals it would surely come back to me in some future credit and consideration. That was before I knew that John was a successful modern artist and manages a gallery in Juneau, while Tadashi edits a Japanese fly fishing magazine. Now a rewrite of my Wind Rivers trip is published in Japan as a tribute to Finis Mitchell, and John wants me to paint in Alaska for his gallery. All the while that I felt I was neglecting my art and writing for my paycheck work, my art career was moving forward very well.
And that is just the tip of the iceberg so to speak. John is active in the tightly-knit and vibrant art community in Juneau and connected me with Dianne Anderson, a prolific artist and art teacher in Juneau. Dianne liked my work and personality and values and over the waning months of 1999 our emails grew more intimate. At work I spend a good portion of my time with email and though I had no time for fishing or painting or writing, there was always time for Dianne. Gradually I was getting to know Dianne and I liked her as much as one possibly can in a pure text format. She sent me an etching of hers on handmade paper she made from old blue jeans, and I sent her one of mine. She started sending info and tourguides, hoping to lure me to Juneau while I was already reading John Muir's Travels in Alaska. A turning point was a short printed piece, the Lessons of the Goose, about how people with common interests and goals can increase their success and happiness by joining in the flying formation to work together in their goals.
When a four day weekend became available I flew to Juneau. Ostensibly my reasons for visiting were to reconnoiter the art scene, buy maps and guidebooks, meet John and sample the Juneau art scene, but I came to meet Dianne in person. She picked me up at the airport and at first sight I was a smitten teenager again. Just as routine had taken over, life was brand new again. Four days are so short that we stayed up most of the nights, talking, reading to each other, and sharing our mutual perspectives of our quite different lifestyles.
I had some free time while Dianne worked, so I walked around Juneau with my camera and sketchbook. The mountains rise straight from the shore five thousand feet, as impressive as Yosemite, bands of islands with their own snowcapped mountains protect the coast as in Maine, and glaciers flow from the icefields to the shore in valleys that are their own Yosemites in the making. A cleared swath of avalanche looms threateningly over the north edge of downtown, but Dianne lives safely across the Gastineau Channel on Douglas Island. It was too cold to paint outside so I sat in a corner of the library that sits above the most scenic waterfront parking garage in the world, and painted looking across to Douglas.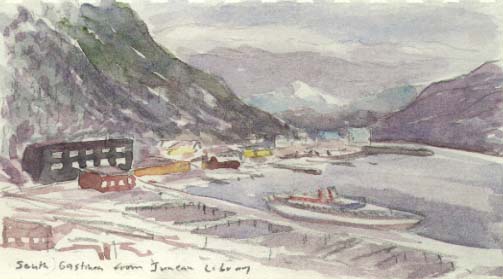 This done and still a few hours before I was to meet up with Dianne at a coffeeshop, so I went to another corner and painted looking south down the channel. Even the oil storage tanks looked scenic to me.
The days aren't all that short, and there was enough daylight for Dianne to drive us up a steep hill on Douglas for some photos, to work on at home. I have been spoiled by California weather and for years have been primarily painting outside but to paint Southeast Alaska I will paint some from photos and quick sketches.
The bookstore provided a winter's worth of reading - John Muir's Travels in Alaska and Samuel Halls Alaska Days with John Muir give two perspectives on the same trips. Together with maps and charts and a subscription to the Juneau Empire, I have spent more time in Juneau in my mind this winter than here in California. My routine is out the window. It will take some time to untangle myself from my day job, softball team and volunteer time but I have already left. I will pace myself so as not to arive before summer, but this year and the forseeable future will be a new chapter for me- Alaska, and the lovely Dianne.