Big Thompson River, Rocky Mountain National Park
Moraine Park is the name given this beautiful meadow near the Estes Park entrance to the national park. I have fished in the rough and tumble closed-in river canyon below for large trout, but here the river is completely different, a pastoral retreat. The trout are small and spooky through this popular water, but more brushy and difficult fishing holds some larger trout a short hike above. I wasn't fishing, just walking, watching, talking to a few anglers and picnic'ers, taking pictures of people with their cameras, and diverted for a few hours to paint this view from the side of the meadow.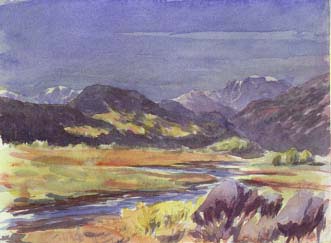 This painting has been sold. A color etching is in process.