Howdy Rob,
Here are the new small paintings I have ready that I could frame and bring down. They are 6-1/2 x 9 and I fit them into a standard 11 x 14 frame, like the one you have. If you want to pick a few to have me bring so you could choose in person, I could bring down a few and a frame and do the final framing down there.
The etchings I already have on my website will go well with the one you have. You'll see here, I am getting back to my love for Chinese Ink painting- I studied with a great master in San Francisco back in the early eighties.
Hatcher Pass - I think this is near Denali - I did this from a picture that Dean took-
Denali - also from a photo from Dean-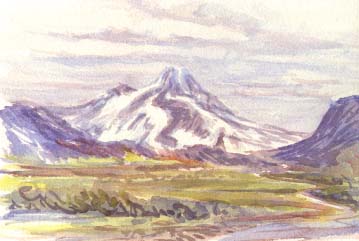 Mendenhall Wetlands Game Refuge - behind my house a quarter mile - thos is where I went out from the house in late september and caught seventeen coho salmon over about five trips of an hour or two each-
Mendenhall Glacier - the famous main glacier in Juneau. The tourists buy these ones for sure. This is just a little different and better than the one I sold at the gallery-
And Mendenhall Glacier in Chinese Ink, -
And an Ink painting I did for the United Fishermen of Alaska Christmas Card: "A Warm Hearth and Safe Harbor -
And an Ink and watercolor from Fish Creek, where I caught two King Salmon this summer -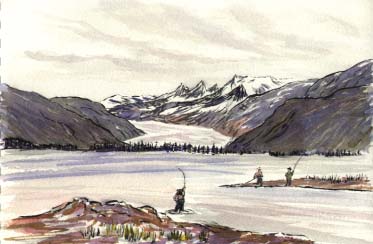 And an Ink painting from a picture I took from a small plane, as we crossed over the mountains up from the local old mine as we flew to a fly-in lake - "Above Perseverence" -
That's my new stuff. I can mat and bring down three or four if you'd like to see them in person. I am selling these for about $200 at the gallery but they take 40 %. I'll make you a good deal. I really just want enough fishing supplies for my trip down there.
I'll also be working up etchings from Fish Creek, Mendenhall Glacier, and View from Mt. Roberts which is on my main web page, over the winter.
Bhs!
Vinnie!