Mark Vinsel Gallery - 2012
Need a virtual vacation? - Join me on previous painting travels via a Painter's Journal .
My work is on display at Juneau Artists Gallery , 175 South Franklin Street in Juneau. Upstairs you will find the Juneau Fly Shop. Stop by and visit both when you are in downtown Juneau, and I will be happy to give you a personal tour of my paintings on display and some free fishing advice.
To inquire about a purchase of a painting, etching, or print, please call me at (907) 586-3424.
New work – handmade solid body electric ukes and uke-tars. Bear proof, weather proof, finely crafted from local Sitka Spruce, Alaska yellow cedar and red cedar. Rock around the campfire, worry free.
Previous Watercolors
Tracy Arm - South Sawyer Glacier
<![if !vml]>
<![endif]>In Fall of 2003 we took a boat ride in late September to Tracy Arm, a fjord south of Juneau fed by two glaciers. The boat lingered at the South Sawyer glacier long enough for Dianne and I to make some quick sketches and get good photos to work from. Icebergs were calving off regularly, gently rocking the boat with waves amidst the ice and waters.
Over the winter I worked on sketches and finished this painting.
Giclee prints available.
Pt. Sophia, Hoonah
In September of 2004 we took the ferry Taku on an excursion to Hoonah to visit the Pt. Sophia cannery that has been opened as a tourist site. If I were a tourist I'd appreciate the glimpse into Southeast Alaska that this provides in contrast to the selfsame stores that have sprouted throughout the cruise destination cities.
<![if !vml]>
<![endif]>I enjoyed a bit of quiet and was able to work up a painting from up the beach a way.
The original painting has been sold, but archival Giclee prints are available.
<![if !vml]>
<![endif]>
Situk River, Yakutat
Last April after attending a meeting in Anchorage I was able to add a day stop off in Yakutat. I met some members of the Alaska Flyfishers and joined them for a day of steelhead fishing on the Situk River. The weather was a rare bright April day and we found the river low and clear with steelhead visible whever we went. I saw more steelhead in one day than I have in twenty years looking for them elsewhere. Half were holdovers in their spawning colors with just as many newly arrived bright fish fresh from the Pacific. Downed trees dominate the river, making bushwacking hard going and giving any hooked fish the upper hand. I hooked seven and landed one and am not complaining about that. I came home and tied a few shrimp variations, one of only a few flies that I saw fish move to and take without hesitation. Giclee prints available.
<![if !vml]>
<![endif]>
Fireweed in the Mendenhall Valley
Every summer in late July the fireweed dominate the meadow where the Mendenhall Glacier has receded in the last century. Most of the population of Juneau lives in the area of this view, just beyond sight behind the rows of spruce and hemlock. I stop and paint it a few times each summer.
<![if !vml]>
<![endif]>
Fireweed in Ink and Watercolor
Dianne and I were married in May of 2005, and on our honeymoon in Japan we visited museums and rekindled the enjoyment I learned in the fluid brushwork in brush and ink painting. I have started carrying the ink stick and stone with my sketching kit and will continue redeveloping the combination of Eastern and Western styles that I started with studying with Tseng in San Francisco. This was another sketch at the Mendenhall Valley in fireweed season.
<![if !vml]>
<![endif]>Seiner at Amalga - Ink
I fish and sketch quite a bit at Amalga harbor and the mouth of Peterson Creek, where seiners harvest chum salmon in the summer months. As long as the tide is not too high, I can find a suitable rock for a seat and makeshift table, for grinding the ink and painting.
<![if !vml]>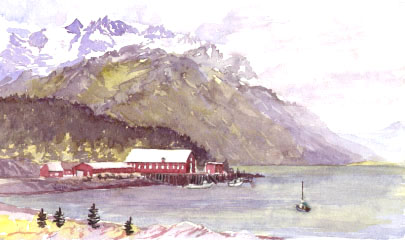 <![endif]>
Trip to Haines - Letnikof Cannery
Dianne and I visited our friends Tom and Jane in Haines, for the weekend of the Southeast State Fair. It was very nice to get away for a quiet times sketching, in between the salsa dancing, salmon barbeques, and evening concerts. We stopped at the the roadside to sketch the picturesque Letnikof cannery, and the owner came over and told us that the no trespassing signs were not meant for artists. I am please that he will be opening it back up for custom processing for local fishermen.
<![if !vml]>
<![endif]>
Shaman Island and Outer Point
I have been spending more time at this furthest point of Douglas Island where we live, and never get tired of sketching here. With the changing tides revealing different points and bays, and in the change of perspective that a short furth hike brings, I can pick from many possibilities of compositions of the island, rocks, sea, glacier and mountains.
Sorry but the spamload pervents me from receiving email dependably. To inquire about a purchase, please call me at (907) 586-3424.
Hand-painted etchings from travels in the lower states -limited edition of 35 -every one is different - priced under $100:
Dick Laws on the Taylor Fork, Montana
Clear Creek, Wind River Range, Wyoming
Yellowstone: View from Mt. Washburn, Wyoming
Jackson Hole - View from Curtis Creek Camp, Wyoming
Thompson River, British Columbia, Canada (Three-plate color etching)
Retrospective (A sampler of earlier watercolors)
About my Art
Fly fishing for salmon, trout and steelhead brings me to beautiful places, and watercolor painting is a perfect companion pursuit. The materials are lightweight and compact enough to fit in a vest pocket. Clear water need not be carried. The time for a simple sketch is about the time you would want to rest a pool after putting a good fish down, and a more involved painting can fill in time when waiting for the evening rise. It can be difficult to choose between painting and fishing when the sun sets and the fish are rising.
I have painted watercolors since 1975. My most inspiring influence was Tseng Ta-Yu of the East-West Art Studio in San Francisco, a renowned Chinese musician, poet, painter and calligrapher who impressed upon me the beauty and truth in oriental techniques and philosophy. My watercolors combine oriental influence with traditional transparent watercolor techniques in the raw natural landscape of western North America. Contrary to popular beliefs promoted by those who would continue to destroy our natural beauty, this nature still exists. I seek in my work to inspire you to cherish and preserve these places.
In 1996 through 1999 I studied etching at Kala Art Institute in Berkeley, CA. I enjoy the process and planning involved in etching as a welcome balance to the spontaneity of watercolor, during the winter when painting outdoors can be problematic.
If you are interested in buying an etching or watercolor, to commission a painting for a specific location, to recommend a suggested location, or converse about the finer points of fly fishing, please contact me at (907) 586-3424.